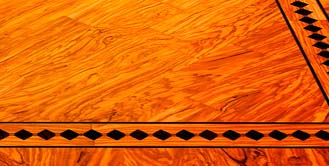 The olive wood is tough and solid perfect to be transformed in the floor of your home.
It lets you to live in a natural location, because it is resistant to woodworms. Moreover it is warm during the winter and fresh during the summer.
Every parquet tile is unique thanks to its veinings and the handcrafting.
The outcome is exceptional: an hight quality and prestigious wooden flooring.
Olive wood parquet has to be shown at a temperature from 15 to 25°C and an humidity from 45 to 60%.
Arte in olivo creates and lays the parquet.
Here you can find different sizes, veinings and handcrafing of tiles.